Smart speakers – it's hard to imagine life without them once you've got one (or one in every room).
They are often the starting point of the smart home journey for many households as an affordable way to bring more convenience into everyday life. Telsyte research estimates that more than 30% of homes are using a smart speaker, with Google, Amazon and Apple making up more than 80% of total sales.
Since launching into the Australian market in 2018 with Amazon Echo, Echo Dot and Echo Plus speakers, the Amazon Alexa portfolio has continued to expand with more devices being added.
The latest addition to the Echo line-up is the Echo Pop.
At $79, it sits just above the Echo Dot (Gen 3) for $59 and in line with the Echo Dot (Gen 4), also $79 – but is much more affordable than the Echo Show devices (with a screen) ranging from $119 to $429.
The first thing you notice about the Echo Pop is its new semi-sphere form factor that measures just 9.1cm in height, 9.9cm in width and 8.3cm in depth, with an overall weight of approximately 196 grams. Unlike the Echo Dot with a full light ring, the Pop has a more subtle light arch on the top edge of the speaker, which turns blue when Alexa is listening – a clear visual cue when saying a command.
The volume up, volume down and mute buttons are located behind the arch for easy access (except when you're sitting in front of the speaker as you'll need to lean over to see which button to press – or you can simply ask Alexa to turn the volume up/down or mute). There are also three pinhole microphones that are super responsive, even hearing voice commands during music playback.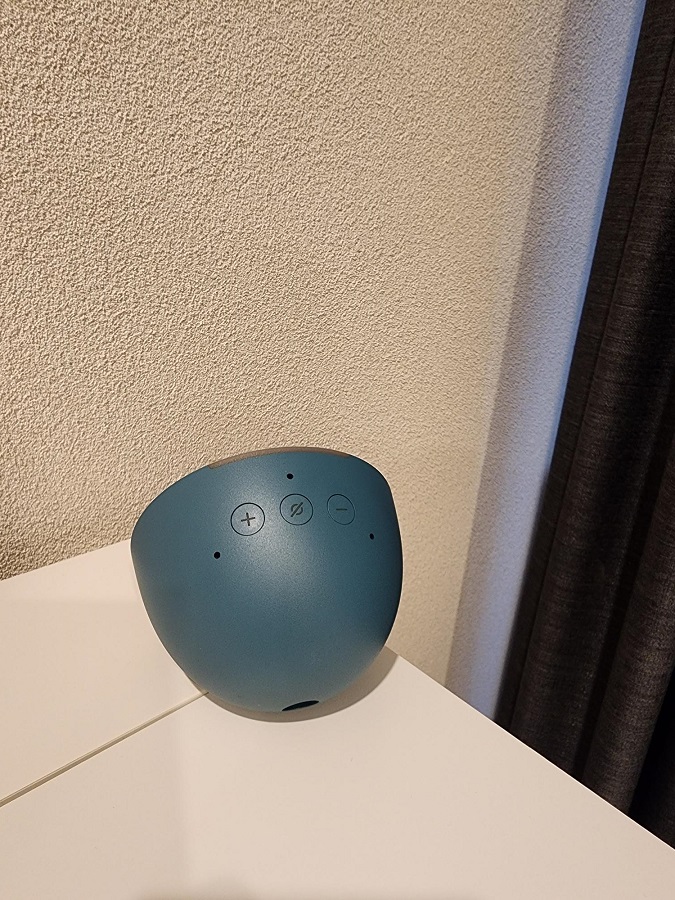 On the back of the speaker, there is a power port at the bottom for the wall adapter included in the box.
As the name suggests, the speaker brings a POP of colour to any room, available in new Lavender Bloom and Midnight Teal, which are sure to appeal to a younger audience who want to jazz up their space, in addition to the standard Charcoal and Glacier White options, to seamlessly fit into any home décor. It's the funkiest looking Echo device in my opinion and a cute and fun alternative to the Echo Dot.
When setting up the Echo Pop (or any Alexa smart speaker), you simply need to connect it to your Wi-Fi network to enable Alexa, and then connect via Bluetooth to stream audio from a phone.
Designed for smaller spaces in the home or an apartment – the Echo Pop can fit pretty much anywhere; on a shallow shelf, desk, or bedside table with ease, taking up less space than the Echo Dot with a more slimline oval shaped base.
With its front-facing directional speaker, ask Alexa to play music, podcasts and audiobooks from Amazon Music, Apple Music, Spotify and more, with decent sound quality, particularly given its compact size, although deep bass was a little difficult to achieve during testing.
The Echo Pop is supported by a range of new accessories that can be purchased separately: silicone sleeves in seven colours, including a glow-in-the-dark option to brighten any room, and a shelf wall mount. There is also a USB charging base to provide additional device charging ports and a battery base, enabling the Echo Pop to be used in any location without the need for a power outlet.
Echo devices are designed with customer privacy in mind and include multiple layers of privacy controls. All Echo devices include a microphone on/off button and the ability to view and delete voice recordings. With Amazon Kids on Alexa, parents can view their child's activity and manage parental controls in the Parent Dashboard.
Verdict
The Echo Pop delivers exactly what it promises – a compact and fun design that works well in small rooms for everyday listening and controlling compatible smart home devices. I believe it's the perfect entry level speaker with the only drawback being its audio quality, but I didn't expect earth-shattering sound at a $79 price point. It's bright colour options and unique form factor makes it targeted to the style-conscious rather than the audiophile.