Roger Federer celebrates Jura Australia 10th birthday
Formally opens new head office.
Roger Federer joined the team from Jura Australia this week to celebrate the local subsidiary's 10th birthday and also formally opened the company's new head office in Melbourne.
Federer, who has been the global brand ambassador for the Swiss fully automatic coffee machine since 2006 and has recently re-signed until 2020, took a break from his training ahead of his defence of the Australian Open to attend a Champagne afternoon tea with Jura Australia employees.
"It is really exciting to be here opening the new headquarters here in Melbourne – it is a lot of fun and we have had some wonderful events in Australia and being with you is very special," Federer said.
"In my opinion Jura has gained a lot of momentum in the past 10 years. The team has done a great job in building awareness for automatic coffee machines and the brand. Today, Jura machines can be found in many premium stores," Federer said.
During an interview at the head office with Nine Network sports presenter and reporter, Erin Molan, Federer also revealed his daily coffee routine.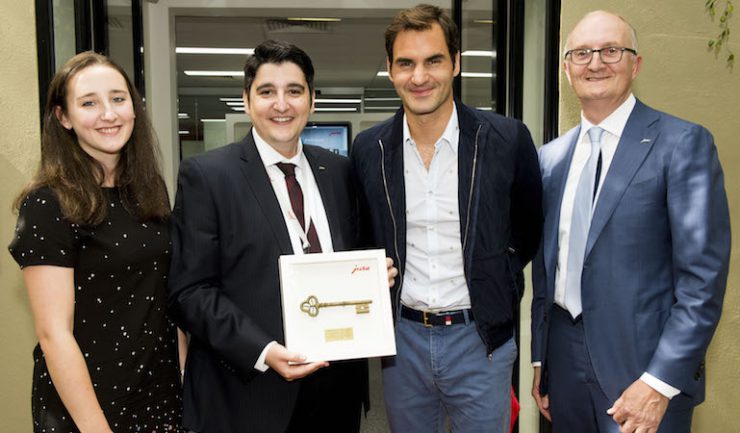 L to R: Kristina Probst (daughter of Jura Global CEO, Emanuel Probst), head of Jura Australia, George Liakatos, Roger Federer and Emanual Probst
"I am always provided with the newest machines and at the moment I have the new S8 machine. I like to change it up and I bounce between a cappuccino and espresso, or a ristretto to mix it up. I normally have three or four coffees a day – one always when I wake up in the morning and on match days I always have one after lunch or an hour before my match – that's become part of my routine over the last five years. That has been one of the secrets [to my success] and also one of secrets for the Australian Open.
"And I also started drinking Flat White which originates from Australia and can be prepared with Jura machines at the touch of a button. So, Jura has not only brought automatic coffee machines to Australia, they also brought the Flat White from Australia to the rest of the world," Federer said.
Federer also told the story of when he was appointed global brand ambassador in 2006.
The official opening of the new Jura head office 

"Shortly after I bought a Jura coffee machine, they called me up and asked about a sponsorship deal. I said 'why didn't you call me a couple of months earlier' as I had just bought a machine. That is a funny story but that's really how it started and we have a wonderful relationship now with Emanuel and the Jura team.

Federer said that he really enjoyed his role as a Jura brand ambassador for a number of reasons.

"I really enjoy drinking coffee, Jura is a high end brand and it is from Switzerland and [when I joined as ambassador] they wanted to expand worldwide. It is nice to be helping a brand and it is truly a win-win situation. All of the people at Jura are such nice people and very down to earth and I have felt very comfortable working with them. As little Swiss guys, it is great to be able to break through in the big world and it is not something we always strive for but Jura feels that way and I am very proud to be able to represent them around the world and a lot of people ask me about the brand which I am very happy about."

Also in attendance at the 10th birthday celebrations was Jura Global CEO, Emanuel Probst, who joined the head of Jura Australia, George Liakatos and his team for the Champagne afternoon tea and evening dinner celebration commemorating the 10 years since the local subsidiary was established.

"The progress in Australia over the past 10 years has been phenomenal," Probst said.

"We're predicting 2018 to be a big year for the Australian market. The combination of a holistic marketing campaign with our global ambassador Roger Federer and the launch of the new Jura S8 in March will be the platform to take the brand to the next level. Australians are going to love the S8's impressive range of specialties and the stunning result in a cup."

Tags: slider