Despite the breadth of young talent in the industry's retail sector, there are no appliance or consumer electronics brands represented in the top 25 finalists list for the 2015 NRA Young Retailer of the Year Award released by The National Retail Association (NRA) today.
The finalists (see list below) who did make it are all vying for the top prize, a place on the Westfield World Retail Study Tour next year, valued close to $17,000.
The 2014 NRA Young Retailer of the Year winner Joanna Zurzolo from Sefton Park (Adelaide) Target Store Manager, (pictured below) recently returned from the Westfield World Retail Study Tour where she was able to experience first-hand some of the most successful, innovative and cutting edge retail businesses, and build a network to last a lifetime.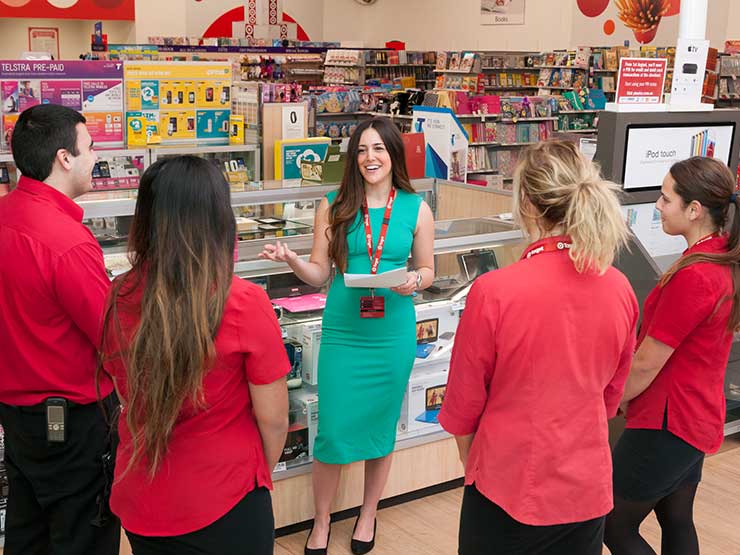 Award is a must for young retailers
Zurzolo was clear about the opportunities that the Award presented to her, "Winning the award is what a young retailers dreams are made of. It has been exciting, challenging and a real journey of self-growth that has helped to lay the foundation for my rewarding career. As the Young Retailer of the Year my name and story was part of the retail world and it gave me the exposure to accelerate my career. Participating in this Award is a must for aspiring and driven young retailers seeking their next rewarding challenge."
The Finalists will attend the Sofitel Sydney Wentworth on Monday, 7 September, for the final stage of judging and to network with key influencers in the industry at the NRA Future of Retail Forum. Later that evening, retailers from across the country will also attend the Parisian Soiree themed Gala Dinner in anticipation of the winner announcement.
Family, friends and colleagues are encouraged to support their finalist and join the industry for an entertaining night out. Both the NRA Future of Retail Forum and Gala Dinner and Awards Ceremony are open to the public.
The NRA Young Retailer of the Year Award is recognised nationally as the highest accolade in retail and serves to acknowledge excellence in ambition, leadership and innovation within the retail discipline, for those of 25 years of age and under.
| | | | |
| --- | --- | --- | --- |
| Name | Company | Position | Location |
| Deana Barducci | Perfect Potion | Retail Store Manager | NSW |
| Alicia Cale | kikki.K | Senior Store Manager | NSW |
| Kaitlin Carnell | Officeworks | Store Business Manager | QLD |
| Medina Cicak | Yum! Restaurants International – KFC | Graduate Leader – Human Resource Officer and RSC Generalist | NSW |
| Laura Conquer | Coles | Property Graduate | VIC |
| Jade Dignam | Myer | Online Content and Promotions Coordinator | VIC |
| Tammy Drew | Target | Department Manager | WA |
| Mitchell Eaves | City Beach | Store Manager | QLD |
| Alex Foley | Boost Juice Bars | Business Manager | VIC |
| Ellen Hamilton | Myer | Category Buyer's Assistant Menswear | VIC |
| Brady Hann | Peregrine Corporation | Trainer and Assessor | SA |
| Gemma Kariotoglou | Fossil Group | Store Manager | NSW |
| Kristie O'Connor | Jeanswest | Senior Store Manager | WA |
| Johanna Parker | Best & Less | Store Manager | NSW |
| Scott Phillips | Kmart | Store Manager | NSW |
| Jade Purnell-Webb | Wallace Bishop Jewellers | Assistant Store Leader and Service Department Manager | QLD |
| Thomas Riek | The Co-op | Trainee Manager | QLD |
| Kristy Rosengren | Bardot | Area Manager South Australia and Northern Territory | VIC |
| Tierny Silver | Trenery | Assistant Manager | QLD |
| Shaun Thatcher | Specsavers | Store Owner and Co-Owner | VIC |
| Luke Van De Wiel | Big W | Assistant Store Manager | SA |
| Giles Venske | Super Retail Group | Area Manager | QLD |
| Michelle Webb | Supercheap Auto – Super Retail Group | Store Manager | VIC |
| Kate Weller | PETstock | SA Retail Support | SA |
| Duncan Yi | Esprit Retail | Country Merchandise Manager | NSW |