Jura has presented the latest additions to its fully automatic coffee machine range at IFA Berlin.
The Jura E8 has been redesigned with a larger 3.5-inch touch display compared to the 2.8-inch display on the predecessor model, allowing for bigger text and images. The grinder has also been updated to a (Professional Aroma Grinder) P.A.G.2 grinder, which allows users to adjust the grind level at any time and not only during coffee preparation. The Jura E8 offers 17 different specialties from an espresso to a cortado. It can also prepare long, mild specialties such as caffè barista and lungo barista.
The new J8 Twin keeps the same footprint as the J8 but with the addition of a second grinder for users to choose one of two coffee bean types or blend them together, which was previously only available for the GIGA line in a larger footprint. The J8 Twin also uses the same panorama coffee display as the GIGA 10, promising a more intuitive user experience.
Jura Australia managing director, George Liakatos told Appliance Retailer, "Each year we see a range of new products from Jura, and at IFA we saw the latest innovations launched. From our loved and trusted E8 to our new platform, the J8 Twin, we saw again the investments in new product development come to the fore.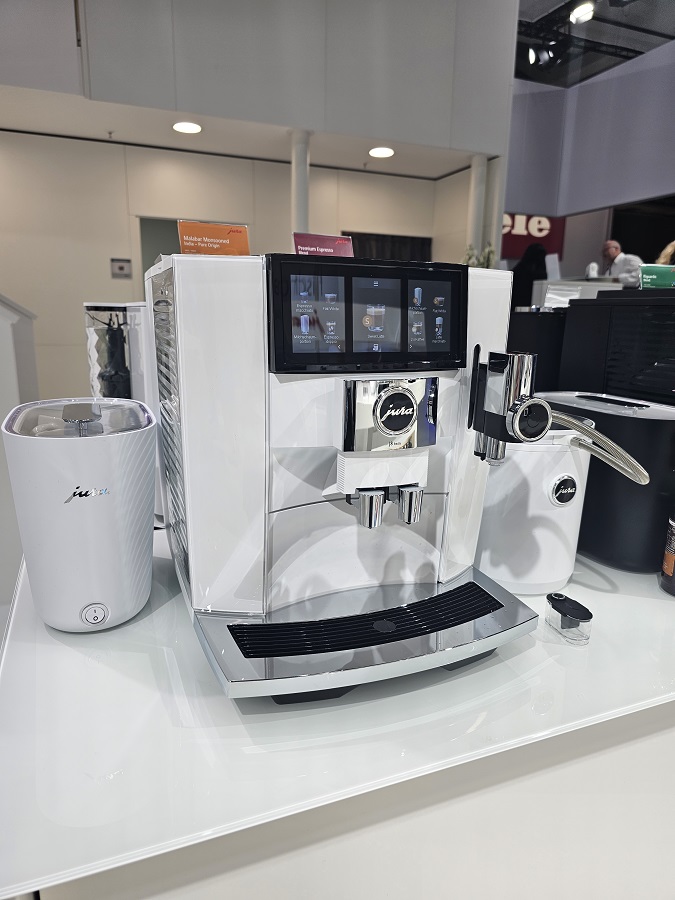 "The new J8 Twin from Jura was a product highlight as it comes equipped with two high-performance conical grinders. Combining two coffee machines in one, this feature was exclusively reserved for our super premium lines and is now for the first time presented in our compact class.
"The latest generation of the E8 too lives up in every way to the high expectations we have of Jura's most successful coffee machine model and is now equipped with a range of premium-segment features including the addition of the P.A.G.2 grinder and new 3.5-inch touch display with large symbols making the E8 even easier to use. Both machines will be a welcome addition to the range in Australia and New Zealand and we look forward to launching them both here locally in the first half of 2024."
Jura also displayed the Z10 in a new Midnight Blue colour, which is launching in Australia at the end of September in time for the Christmas sales period.