From blenders and air fryers to speakers and vinyl players.
The crowds might be smaller but there was plenty of buzz at the Hong Kong Electronic Fair Autumn Edition and electronicsAsia. With 4,300 exhibitors the world's biggest electronics show was still a busy event and clearly a major sourcing platform for the 135 buying missions from 60 countries, including Australia.
The popular Hall of Fame is a showcase for over 580 consumer electronic brands. Among them was Westinghouse with a collection of vintage-inspired small kitchen appliances in a range of finishes from rose gold to a gradient colour offering and products with a discreet wooden trim for a more natural look.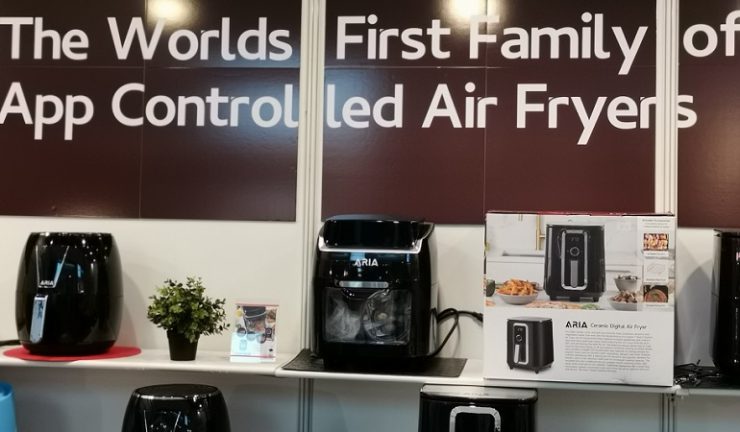 Italian brand Laica unveiled a vacuum blender said to preserve the antioxidant properties of food. Aria introduced what it claimed was a world first in Smart App-Controlled Air Fryers (pictured above) with eight cooking options including broiling, dehydrating, toasting, frying, rotisserie, slow cooking, baking and roasting.
It's a small world when it comes to technology with mini speakers and radios in abundance. Vice30 had coffee lovers in mind with Bluetooth speakers with Selfie carrying Nestle and Starbucks logos.  Sangean took bling to a new petite level with a pocket radio designed to resemble a jewellery case (pictured below).
And if you thought vinyl was dead, think again. There were turntables turning up in their hundreds. Among them was Leetac Electronics with a retro music centre and a USB model. For those wanting to own the moment the new Insta360 OneX Action Camera featured an invisible selfie stick and free capture editing. It can also be attached to the family dog to track its adventures.
HKC Overseas group displayed an ultra-thin portable monitor that is compatible with HDMI and type-C inputs for smartphones, laptops, PCs, cameras and game consoles. It is designed for business presentations, photo frame applications and dual monitor setups on-the-go. Available in 11.6; 13.3 and 15.6-inch screen sizes with 1920 x 1080 resolution.
The company also had three portable TVs on display in 7; 10.1 and 13.3-inch versions. All feature built-in speakers and rechargeable battery. The two smaller models have a 1024*600 TN panel and the larger model 1920*1080 IPS panel.
At a special media presentation, two products launching this month caught our attention. Remotec Technology previewed Airxed, a fan that CEO Daniel Chun (pictured) told Appliance Retailer offered retailers a big market for customers with a split system air conditioner.
"The fan emits InfraRED signals that can control an air conditioner. The installed air conditioner does not have to be adjusted as the Airxed does it for you." It features a temperature and humidity sensor, supports Alexa and Google Home and works with 90 per cent of air conditioner brands including Panasonic, Samsung, Sony, Hisense and LG.
Another product from Danish company Platin is what vice president, Helge Kristensen described as the world's smallest voice enabled speaker, the Microdot XS (pictured below) with multiple connection options including Wi-Fi and Bluetooth.
"Everything you can do with Alexa you can do on this device," he said. This includes music streaming and personal to-do lists. Another Platin innovation is the Wave for charging headphones and earbuds to be voice enabled and Bluetooth streaming enabled. A tiny form factor it weighs in at less than 50g. Kristensen said there were "definite plans for availability in Australia."