JB Hi-Fi New Zealand has opened a new store in Hamilton on the North Island with a fresh look that embodies the brand's unique style. It marks the retailer's first store opening in the region in seven years.
The new store located at The Base Te Awa measures 1,100 square metres and is part of the retailer's five-year growth strategy to open more stores, refit the existing network, relocate stores to be in more convenient locations for customers, and launch at least two international airport locations.   
JB Hi-Fi New Zealand managing director, Tim Edwards said the new Hamilton store signals confidence in New Zealand and customer feedback for more of the choice and service that JB Hi-Fi offers.
"Our team has been working hard behind the scenes, and we have big plans for the future. If you want to invest in, work for, or partner with JB Hi-Fi, now's the time but strap in because this is just the beginning," he said.
JB Hi-Fi's range of products at The Base Te Awa incorporates computers, tablets, phones, TVs, audio equipment, gaming devices, home appliances, music, movies, and more.
"We're retail with personality. Our stores are a fun place to be, whether you're on an entertainment or technology mission, checking out what's new, or flicking through the vinyl racks," Edwards said.
"From floor layout to staffing – we've infused the JB Hi-Fi DNA into every aspect of the store. Shoppers can expect DJs spinning tunes on weekends and product demonstrations to help them embrace the latest and greatest technology."
Replacing the existing Hamilton store, the new JB Hi-Fi store has also created more jobs. "Welcoming more people from the Waikato into the JB Hi-Fi family is great news for us and the region. We have doubled our staff numbers to resource the new store, and all existing staff will transition seamlessly to the new location."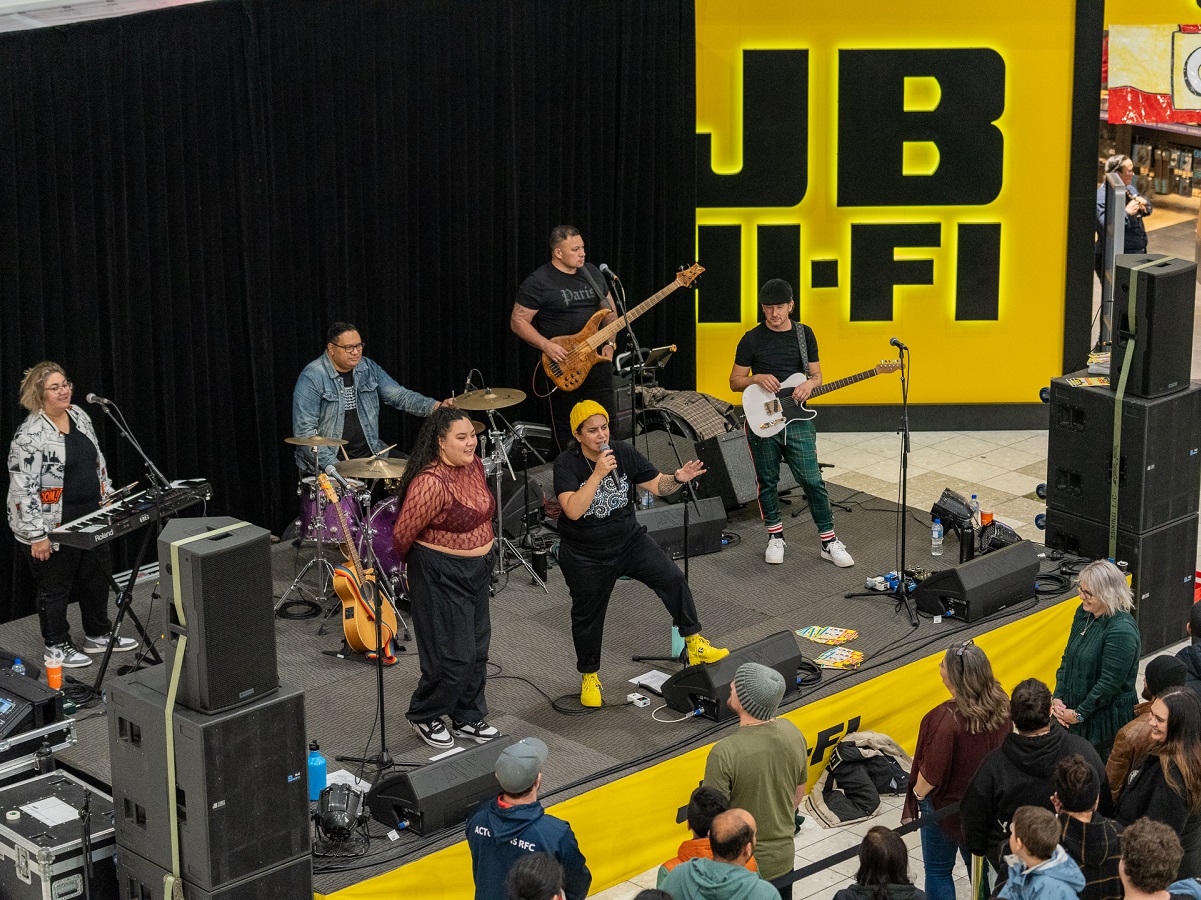 Launch week has seen live performances from cover band, White Chapel Jak (pictured) and music legend, Jon Toogood of Shihad fame, plus exclusive deals on the official opening night on 7 July.
"Over the weekend, we welcomed thousands of customers into our new store. Unlike any other consumer electronics store, we had live music performances, DJs spinning tunes and the great product choice and service that JB Hi-Fi is known for," Edwards said.
"We are proud of the fun, high-energy retail environment we have created, and the store smashing all expectations during the first three days of trade tells us that our customers love it too.
"This launch marked the beginning of our ambitious growth strategy for New Zealand, with our next official opening on Queen Street in Auckland's CBD, on 21 July. We currently have 14 stores nationwide, and over the next three to five years, we are looking to double the size of our business. We see a tremendous growth opportunity in this market, and with new leadership and a strong strategic plan, now is the time for us to maximise its potential."