Alex Duffner wants more people to discover science into their homes so he has created hybrid appliances called 'Domestic Science Machines'.
As a 9-year-old growing up in Thailand, Alex Duffner would dig up the backyard trying to find dinosaur fossils. When he was 12, this precocious scientist-in-training, now living in Germany, tried to separate hydrogen and oxygen from water using a homemade electrolysis machine.
The inspiration for these bursts of domestic experimentation was Duffner's passion for practical science, fueled by television networks like National Geographic and the Discovery Channel.
"I watched a lot of documentaries when I was young, starting around 5 years old. I remember telling everyone to stop eating beef when I saw a documentary about mad-cow disease!" Duffner said in an interview with Appliance Retailer.
"All of my early experiments failed, of course, as I didn't have the resources or support I needed, so when it came to my university project, I wanted to relive that moment of childhood curiosity and fascination for science."
The 24-year-old now lives in the United Kingdom and works at Technology Will Save Us (TWSU), a London organisation that gives lessons in pop-science fields like computer programming, electronic music and video game design.
"Alex is a product and retail designer for us and is very talented, diligent and hardworking," explained Alexandra Wilks from TWSU. "His interests are very much aligned with the TWSU message: making complex technology more accessible. We design DIY technology kits that help people to become makers through making, playing, learning and inventing."
It is his spare time, however, that Duffner is attracting the attention of the world's appliance afiociandos. He has quickly moved to the vanguard of modern appliance design with his Domestic Science Machines, which were designed, created and showcased as part of his tertiary studies.
These Domestic Science Machines are working prototypes that meld small appliance functionality with scientific discovery, such as a Centrifuge-Salad Spinner and a Spectrometer-Coffee Machine. (A spectrometer is "an instrument used to measure properties of light over a specific portion of the electromagnetic spectrum, typically used…to identify materials", according to our friends at Google.)
These contraptions are presented in beautiful, distinctive, grainy oak and are instantly recognisable by their contoured wooden form factor. Whether at Harvey Norman in Sydney or John Lewis in London, it is hard to escape the brushed stainless steel, matte blacks and high gloss colours that are considered on-trend right now, so Duffner's style marks his creations as unique.
After graduating from high school — a place he says "didn't give [him] an opportunity" to properly explore science — Duffner completed a Bachelor Arts in Design at Goldsmiths College at the University of London, an establishment famous for producing top notch artists, with Blur and Gorillaz lead singer Damon Albarn, dubstep pioneer James Blake and fashion icon Mary Quaint counted among its alumni.
Living and breathing design in this nurturing environment proved seminal for Duffner. He started making potato guns, microscopes and spectrometers based off guides published at DIY website Instructables. They say invention is borne out of necessity but for Duffner it was poverty.
"I tried doing some science experiments but many required expensive equipment, so I decided to build my own scientific instruments," he said. "Whilst doing this, I realised that many people would not have the patience, expertise and time to make all of their instruments so I thought about ways to make it easier to introduce scientific instruments into familiar environments such as the home."
Duffner purchased a laser-guided thermostat to measure the ideal cooking temperature for frying eggs and used his homemade microscope to observe structural changes in albumen up close. It were these flirtations with molecular gastronomy that convinced Duffner to merge the processes. All the while, at the front of his mind was a desire to make scientific discovery more accessible, through both cost and familiarity.
"When you think about it, you wouldn't necessarily spend a huge amount of money on, say, a microscope, but if your home appliance can be easily adapted and designed to work as a microscope, that makes it easier for people to get their hands on one," he said.
Having come up with the idea of stealthily introducing home chefs to scientific discovery through their home appliances, Duffner set out to match the appliance to its instrumental counterpart. The similar physics of a centrifuge and a salad spinner makes that conflation "quite obvious" for Duffner, while the Spectrometer-Coffee Machine required more in-depth thinking.
"Coffee making is a science in its own right. One thing that is elusive for coffee lovers is achieving the right balance of flavours, which is controlled by its chemical composition.
"How cool would it be to analyse the chemical compositions of your coffee to know exactly why your coffee tastes like it does?"
A video on Duffner's website shows him demonstrating this machine, along with the Microscope-Chopping Board, at an open-studio hands-on.
"It gave you a sense of perspective and vision on your food, which you wouldn't normally see," is how one user at this demonstration described Duffner's work, while another said, "if you see a speck on your tomato, you can just zoom in on it [to see] what that speck is you're about to eat".
Other prototypes currently in the works include a 'Spectrometer Oven', 'Molecular Microwave', 'Vacuum Salad Bowl Fridge', 'Spice Rack Centrifuge' and a 'Sous Vide PCR Cycler'.
For this last one, Duffner provided a sketch of his design (see below), which includes this charming question and answer:
What can I do with it? Cooking: Sous vide food such as eggs, meat and vegetable. Science: Grow DNA for analysis, cycling DNA through different temperatures.
These prototypes will follow Duffner's established design aesthetic, which he says makes the appliances more tactile: an advantage of wood over plastics.
"I purposefully wanted to move away from the cold and uninviting plastics and metals of ordinary scientific equipment and focus on organic materials such as wood, ceramic and glass.
"I used European and American Oak, for its ability to resist moisture and damp, and ceramics because it reminded me of old pharmacy bottles, which I love."
Already looking to stay ahead of the technological curve, Duffner wants to develop smartphone and tablet apps to monitor and control Domestic Science Machines and analyse their output data. These Machines could then talk to each other in an Internet of Things-style ecosystem.
Duffner said it would be "a dream come true" to see one his scientific appliances on sale in a retail store but his ultimate goal remains as pure as it was when he set out on this journey: to introduce science and discovery into more people's lives.
"I love questioning things and discovering the extraordinary in our daily lives. Most of us don't understand how a lot of our devices actually work. We take it for granted and don't really recognise the wonders that make everyday devices so special.
"Think about how old CRT televisions work — they use a cathode ray tube, which is actually a particle accelerator, to create an image — just mind-blowing!
"With any future work I create, I really want to demystify technology and make them accessible and easy to understand to the general public."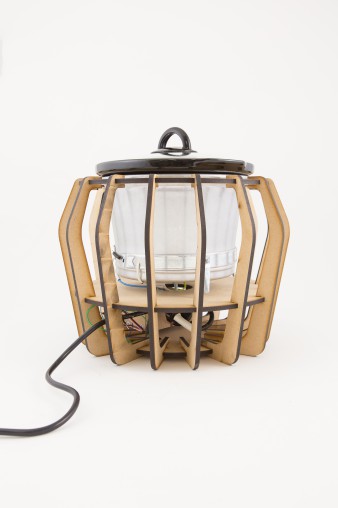 This author is on Twitter: @Patrickavenell