This author is on Twitter: @Patrickavenell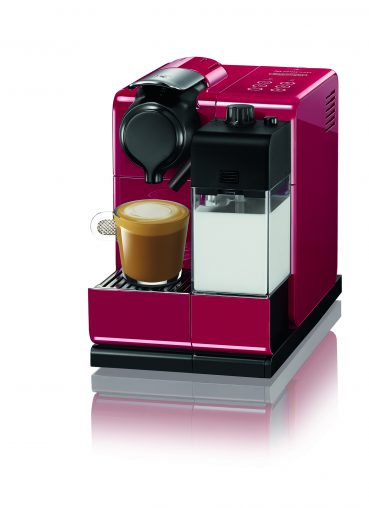 Nespresso has unveiled the new capsule coffee machines that it hopes will be pleasing Mums and families come the second Sunday in May.
Joining Nespresso's Lattissima range of 'fully automatic' capsule machines is the brand new Lattissima Touch, which will be available in Glam Red, Glam Black and Glam White (the 'glam' indicates the three machines have a shimmering veneer). These machines are all co-branded with De'Longhi and feature a built-in milk delivery solution enabling one-touch preparation of ristretto, espresso and lungo coffees, with or without milk.
"Innovation and design is at the heart of Nespresso," commercial manager John Ciaglia told me. "As part of the quest to consistently deliver the highest quality coffee to Club Members, Nespresso is continually evolving its machines.
"The Lattissima Touch is one of the most feature-rich machines Nespresso has to offer and enables coffee lovers to enjoy an enhanced coffee quality experience in their own home."
One of exciting new features of the Lattissima Touch machines is its tactile interface. Previous models have used soft touch controls, which can jut out from the top and can become grimy from overuse. The new controls sit flush on the machine and are very responsive. "With a tactile interface for optimised convenience, creating extraordinary coffee and milk recipes has never been easier," Ciaglia told me.
All the new Lattissima Touch models are available through machine partner De'Longhi but that doesn't mean Breville is missing out. Nespresso's other machine partner Down Under will be selling a new limited edition Fuchsia Velvet iteration of the wildly successful Inissia model. Meanwhile, De'Longhi will take charge of the limited edition Pacific Blue Inissia. For those wondering — and I didn't know this — Fuchsia is a particularly brilliant shade of pink.
"Our trade partners have told us that customers are looking for greater choice when it comes to the colour and style of machine that best suits their needs and wants," Ciaglia explained to me. "Adding new,
limited edition colours to our offering keeps our range fresh and exciting.
"The Inissia machine, available in conjunction with our machine partners De'Longhi and Breville, is compact in size and contemporary. It's a great choice for those on the market for their first Nespresso machine."
The new Lattissima Touch models are RRP $649 and the Inissia machines are RRP $249. From 17 March 2015, Nespresso will offering $100 cashback on the Lattissimas and $50 cashback on the Inissias. This offer ends 17 May 2015.