Samsung Electronics Australia has confirmed details of its 2020 QLED TV range, Lifestyle TVs and soundbar offering – its most expansive portfolio to date.
Samsung will continue its commitment to 8K and 4K TV experiences with smart AI upscaling, enhanced in-TV audio and a range of panels over 75-inch. The flagship model QLED 8K, Q950T, will be available in 65- and 75- and 85-inch with pricing to be confirmed. The introduction of an 85-inch QLED TV responds to growing demand for larger screens.
"Australians continue to demand bigger and better entertainment experiences from their homes which is why we are launching our widest range of TVs that feature the best in immersive visual and audio innovation," Samsung Australia director of audio visual, Hass Mahdi said.
The Q950T (pictured) features an ultra-thin profile and Infinity Display offering almost 99% of pure screen. Samsung's AI upscaling is now more advanced thanks to a new Quantum Processor that offers pixel-by-pixel image enhancement.
These Q950T will be complemented by the QLED 8K Q800T, which will be available in 55-, 65-, 75 and 82-inch, with pricing to be confirmed.
The QLED 8K TV range introduces new Object Tracking Sound in-panel technology that tracks on-screen action from scene to scene. This means sound is emitted from the speakers in the top, bottom and sides of the rear of the TV and is projected to reflect off nearby surfaces. Another new technology is Q-Symphony that enables seamless connection between the TV sound and Samsung's Q Series soundbars for additional audio detail.
The flagship Q95T in the QLED 4K TV range will be available in 55-inch (RRP $3,499), 65-inch (RRP $4,649) and 75-inch (RRP $6,999). The Q80T and Q70T will be available in 55, 65-, 75- and 85-inch, with RRPs starting from $2,099. The Q60T will be available in 55-, 65 and 75-inch with RRPs starting from $1,729.
Select QLED TVs include Dynamic Black Equaliser technology designed for gaming enthusiasts to improve visibility in dark scenes, while Mobile View Mode enables multi-tasking on screen and AMD Freesync compatibility improves input lag.
The 2020 range supports Samsung Bixby, Google Assistant and Amazon Alexa to enable users to select and search by voice.
Lifestyle TV offering
In addition to the QLED 8K and 4K TV range, Samsung has expanded screen size availability for The Frame (pictured) – the TV that turns into an artwork when not in use. Alongside the existing 43- and 55-inch options, The Frame is now available in 32-inch (RRP $919), 50-inch (RRP $1,949) and 75-inch (RRP $4,649).
Artworks from The Frame Art Store can be selected manually or searched via voice activation for users to more easily choose from 1,200 artworks.
The Serif TV will be available in 43- and 55-inch models and will now feature the same Smart Hub functionality as the rest of the QLED TV range.
At this year's Consumer Electronics Show (CES) in Las Vegas, Samsung also announced its latest Lifestyle TV portfolio, The Sero, which can pivot between horizontal and vertical orientations when connected to the user's mobile device, ideal for social media channels, movies and other personal videos.
Soundbar line-up
Samsung is launching its most advanced and extensive range of soundbars to date with the Q Series, T Series and S Series soundbars, designed to complement Samsung's QLED TV range with Q-Symphony.
The premium Q Series features Samsung Acoustic Beam technology for additional depth and surround sound, the T Series has 3D surround sound via DTS Virtual X support and wireless bass, while the S Series can be used as a standalone soundbar or stereo speaker system with side-firing horn speakers for a wider soundscape.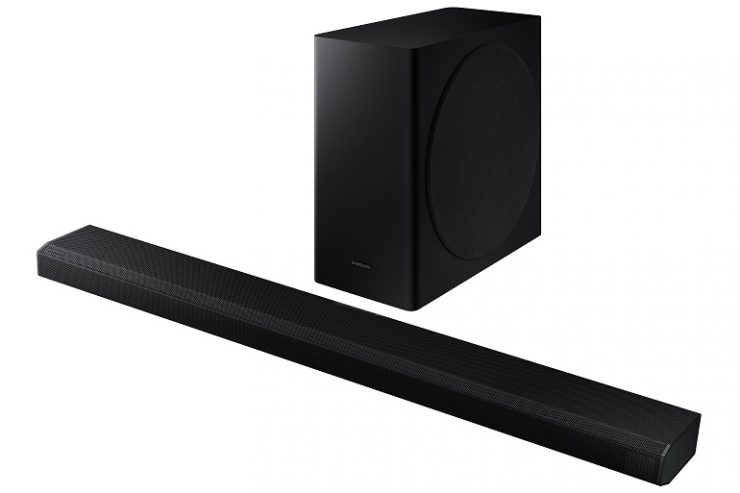 For smarter and simpler integration, the Q800T soundbar also comes with Samsung's Bixby voice assistant and Amazon Alexa compatibility, as well as wireless connectivity for users to connect their soundbar to their TV via Wi-Fi.
Both the Q800T and Q70T soundbars are equipped with True Dolby Atmos and DTS:X surround sound technology that delivers both overhead and directional sound.
For added peace of mind, the Q series soundbars are backed with a 60 day money back guarantee until 31 July, 2020.
Q Series soundbar RRPs start from $799, the T Series soundbar RRPs start from $349 and the S Series soundbar RRPs for $599.