Scheduled for local release in Q1 2020.
Jura has presented its latest coffee machine model, the GIGA 6, at this year's IFA in Berlin, featuring a choice of 28 specialty coffees, two electronically adjustable ceramic disc grinders, two pumps and two thermoblocks, meaning the machine can prepare two coffees simultaneously.
Ideal extraction conditions are key to the perfect cup of coffee and Jura fulfils this requirement with three different brewing processes. For trend specialties with milk, both milk and milk foam can be tailored to individual taste and programmed in 10 temperature levels. With two heating systems and two pumps, coffee and milk can be prepared at the same time.
The Pulse Extraction Process (P.E.P.) ensures the optimum extraction time for a short specialty and allows the aromas to fully develop. Intelligent preheating technology ensures that even after long pauses between preparing drinks, the first coffee is hot when poured into the cup.
The One-Touch Lungo function is ideal for creating long specialty black coffees. Inspired by the expertise of the world's best baristas, this function adds hot water to the extracted coffee.
The two electronically adjustable ceramic disc grinders are precision-made to grind coffee to optimum fineness. The Automatic Grinder Adjustment (A.G.A.) is complemented by two self-adjusting grinders for two different coffee varieties to be used, either individually or mixed together. The mix of coffee can be selected in increments of 25% (for instance, 100% left, 75% left / 25% right, 50% left / 50% right).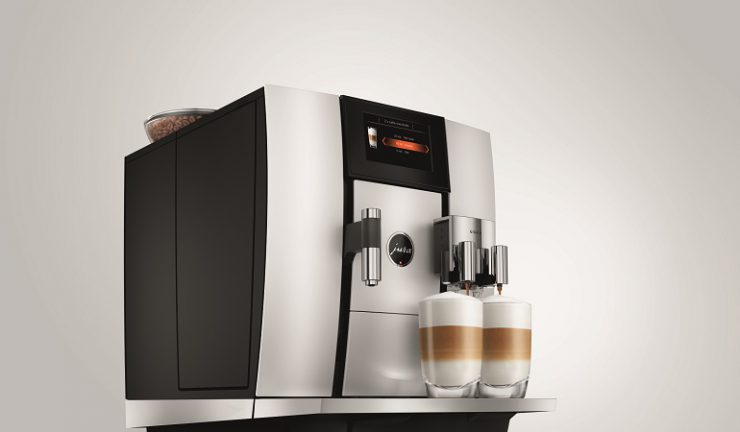 A self-learning algorithm identifies each user's personal preferences and adapts the start screen of the 4.3-inch high-resolution, colour touchscreen display accordingly. The drip tray has also been redesigned to be removed, emptied and reinserted with just one hand.
The GIGA 6 will be available in Australia in March 2020 from selected retailers.