By Emily Bencic 
The telco and fitness categories were strong performers in FY15 for JB Hi-Fi thanks to the Apple iPhone 6 and FitBit activity trackers, respectively, according to CEO Richard Murray. The small business tax incentive was a huge contributor to sales in these categories and the overall 4.8% growth in the company's total sales.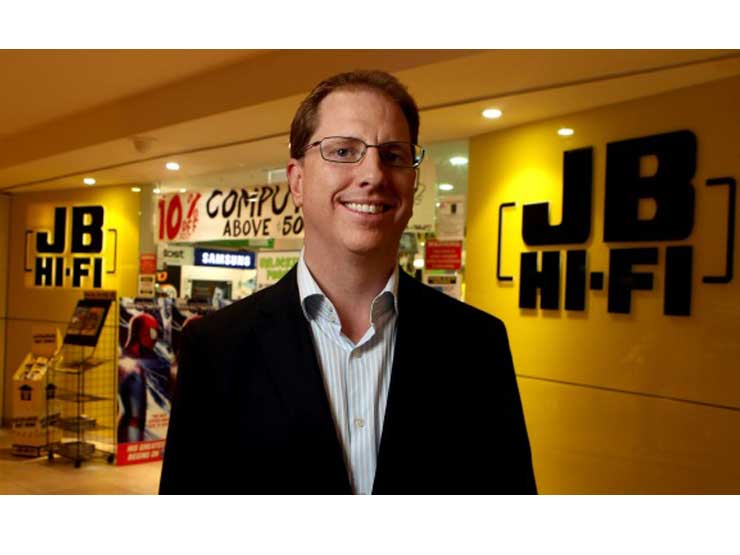 The computer, IT and home appliance category also performed well, while online sales skyrocketed by 16.9% for JB Hi-Fi (JB). However, there was softness in the visual market. In an investor conference call, Murray said consumers had "no immediate need" to buy a new television as phones and computers are taking precedence on purchase priority lists.
In a statement to the Australian Securities Exchange, JB Hi Fi CEO Richard Murray said, "It was pleasing to see our sales and earnings momentum grow through the financial year. Trading in June was particularly strong as we cycled a soft trading period in the prior year and enjoyed the benefits of solid sales growth assisted by the small business tax incentives."
Total sales grew 5.0% in Australia with comparable sales increasing by 6.2%, while total sales were down 0.1% in New Zealand to NZ$211.1 million, with comparable sales down 4.5%. Net profit after tax (NPAT) was $136.5 million from $3.65 billion of sales for the full year ended 30 June 2015. Comparable sales were up 2.9%, while gross profit increased 5.6%.
Store openings
During FY15, the company opened five new stores and is expected to open six new stores in FY16 and maintains its stated target of 214 stores across Australia and New Zealand.
The company had 43 JB Hi Fi Home stores as at 30 June 2015, with four new JB Hi Fi stores opened and 17 JB Hi Fi stores converted to Home during FY15.
"Each new JB Hi-Fi Home store contributes to growing our customer awareness, market share and supplier support. This, combined with our ongoing investment in store wages, staff training and supply chain, places us in solid position as we continue with our expansion," Murray said.
As recently reported by Appliance Retailer, the company is introducing small appliances into existing JB Hi-Fi stores. It has been added to four JB Hi-Fi stores to date, with pleasing results. See story https://www.applianceretailer.com.au/2015/08/smalls-battle-jb-takes-on-dick-smith-home-model/#.VdFxSLKqpHw for more information.
"By leveraging our strong heritage in innovation and technology, we see our continued expansion into home appliances and ultimately the connected home as a significant opportunity for JB in the future," Murray commented.