Visitors to Australia's biggest AV event had much to see and hear. It was impossible to miss the LG state-of- the-art transparent display as you entered the exhibitor hall (pictured). The Transparent Color LED film displays digital content and information in bright colours while still showing what is behind the glass. It can convert any window or glass surface into a stunning digital canvas and suits areas such as retail storefront windows.
The versatile colour LED film offers more than 1,000 nits of brightness, with each 668x480mm panel containing 560 LED pixels that support a wide colour range while maintaining a high transparency ratio. At just 1.5mm thin, it is easy to install on any existing glass surface using self-adhesive transparent film. According to LG, next-generation display solutions like this offer a limitless range of installation possibilities.
Another innovation from Seen Technology was Hypervsn, described as the ultimate solution for delivering floating 3D visuals with a holographic effect. This high impact visual communication is being displayed in the French multinational retailer, Carrefour, to promote mobile phones, company spokesman Rob Grosso told Appliance Retailer.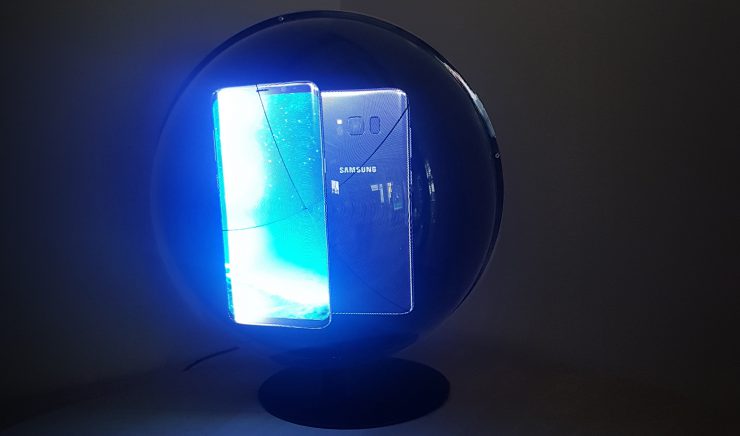 Samsung gave visitors the opportunity to experience Flip, the company's digital whiteboard that was unveiled at CES in January. Up to four people can write simultaneously with a pen or finger and notes can be easily removed with a hand swipe or saved as required and the device easily rotates between landscape and portrait modes. Content can be shared or saved to a USB or through mobile and digital channels. And changes made on the Flip will automatically transmit to a personal device, and vice versa. Users can open documents such as Microsoft Word, PowerPoint and PDF with viewing, editing and saving options as documents are presented.
QualiFi also had a stand at Integrate but gave visitors a new product preview at the Boom Box Marquee nightclub at Sydney's Star Casino. The re-imagined Jamo Studio 8 series combines innovative contemporary design with advanced acoustics and natural sound at various price points. The flagship S809 HCS home cinema system comprises floor-standing speakers, surround speakers and a center channel, plus Dolby Atmos elevation speakers and a subwoofer. It recently received an EISA Best Buy Home Theatre Speaker System award.
Klipsch also debut the Reference Premiere series speakers. "We have taken the successful foundation of our best-selling speakers and enhanced them to create the hands-down, best-sounding premium speakers on the planet at these price points," product manager, Michael Buratto said.