Dyson has rolled out a new range of vacuum cleaners introducing de-tangling brush bar technology, the cordless Pet Groom Tool, a new Scratch-Free Dusting Brush and Awkward Gap Tool attachment.
Now available across Dyson's latest range of vacuum cleaners, new brush bar technology is designed to tackle all hair, human or pet. Inspired by a de-tangling comb, the brush bar features 56 hair removal vanes, precisely angled to help migrate all hair types directly into the cleaner head. The polycarbonate teeth are combined with a set of spiraling nylon bristles, anti-static carbon fibre filaments, and strong suction power.
"The impact pets have in the home goes beyond what we can see. Effectively removing pet hair is important, but pet dander with dried-on saliva is a problem which is invisible to the naked eye," Dyson research scientist in microbiology, Monika Stuczen said.
"These microscopic particles can carry allergy-causing proteins around the home. Lightweight and miniscule, they can remain airborne for hours or transfer between objects. Research has even found cat allergens in rooms where cats have never been. So, the proper filtration found in Dyson machines is vital to maintain a cleaner whole-home environment."
Dyson research has found that one in two pet owners allow their pets to sleep on their beds, yet two-thirds of Australian pet owners are unaware that viruses and house mite faeces can reside on their pets.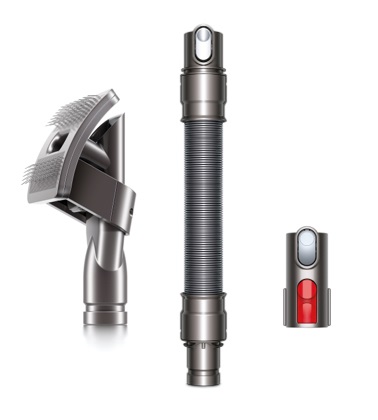 The Dyson Groom tool (pictured above), engineered to remove loose hairs, pet dander and microscopic skin flakes, is now compatible with Dyson's cordless range. Attaching to the main body of the machine or via an extension hose, the tool, which has 364 bristles angled at 35 degrees, flexes as owners brush their pet.
While traditional dusting tools may use coarse bristles to agitate dirt, Dyson's new Scratch-Free Dusting Brush (pictured above) is equipped with 8,100 ultrafine and densely packed Polybutylene Terephthalate (PBT) polymer filaments, a material inspired by fine paint and makeup brushes. The bristles are tapered to just 0.05mm, to avoid scratching of delicate surfaces. The brush also incorporates a rotating cuff to remove dust and debris from the bristles hygienically and easily.
Dyson's new Awkward Gap Tool (featured image) twists 22 degrees, found to be the optimum angle for cleaning hard-to-reach places. With a width of just 12.5mm and 254mm reach, it is engineered to reach and clean deep into narrow gaps. The attachment also offers a secondary brush at the tip, to tackle more stubborn messes.
Initially launched in 2016, the Dyson V8 vacuum was designed to deliver cord-free, hassle-free cleaning, for up to 40 minutes. Now it is upgraded with Dyson's hair de-tangling technology, including the new motorbar cleaner head and de-tangling hair screw tool. To trap invisible particles the size of pet dander and allergens, filtration has been improved from 99.97% to 99.99% efficiency at 0.3 microns, in line with the latest Dyson V15 models.