KitchenAid announces pricing of hobs and hoods
Wide range of model types.
KitchenAid major appliances are now available at Camberwell Electrics in Melbourne within a dedicated Experience Centre that includes a complete range of hobs and rangehoods.
From traditional gas to designer induction, KitchenAid hobs are equipped with a full range of features. The hobs are delivered with an iXelium finish that prevents food sticking to the surface while protecting it from stains, scratches and yellowing.
KitchenAid induction hobs feature a booster function to speed up the boiling process and a sensor function to detect when a pan reaches boiling point. Power management technology sets a maximum power level to suit the home's power supply and a multifunction button has dedicated melting and simmering settings for added precision, as well as a keep warm function. The bridge zone allows users to link two adjoining zones to manage large pots and pans.
KitchenAid gas hobs feature a wok adapter to support the pan and ensure stir-fry is cooked at the right temperature. Special burners with concentric flame rings give users powerful, even and controllable heat and dual-valve control offers ultimate flexibility. Brass burners made from durable, premium quality material are designed to add an extra touch of refinement while the hob grates are dishwasher safe for added convenience.
KitchenAid has a range of hood types in its portfolio including wall, downdraft, island and built-in models. Perimetral Aspiration technology extracts fumes along the edges of the hood rather than the centre for faster moving air, resulting in better grease filtering and quieter operation. All hoods have an extraction rate above 581 m3/h and come with washable filters.
The downdraft hoods feature automatic rise and retract and three extraction speeds plus booster function, while the chimney hoods have touch/knob-controls with LED lighting.
KitchenAid 90cm Induction Hob (KHIP5 90510)
Hobs:
Induction –
90cm Induction Hob (KHIP5 90510)
RRP $3,999
77cm Induction Hob (KHIP4 77510)
RRP $2,999
65cm Induction Hob (KHIP4 65510)
RRP $2,699
65cm Induction Hob (KHID4 65510)
RRP $2,299
40cm Domino Induction Wok Hob (KHWD1 38510)
RRP $3,399
38cm Domino Induction Hob (KHYD1 38510)
RRP $1,799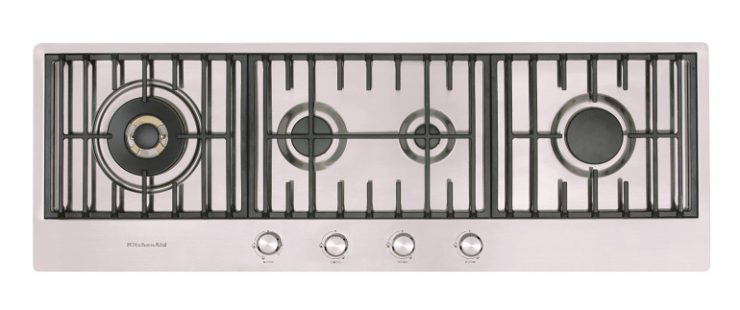 KitchenAid 120cm Gas Hob Flush (KHSD4 11380)
Gas –
120cm Gas Hob Flush (KHSD4 11380)
RRP $2,999
86cm Gas Hob Flush (KHSP5 86510)
RRP $2,499
77cm Gas Hob Flush (KHSP5 77510)
RRP $1,999
60cm Gas Hob Flush (KHSP4 59510)
RRP $1,499
KitchenAid 38cm Domino Gas Hob (KHDP1 38510)
Domino – 
38cm Domino Gas Hob (KHDP1 38510)
RRP $1,499
38cm Domino Gas Hob (KHDD2 38510)
RRP $1,499
KitchenAid 80cm Downdraft Hood Countertop (KEBDS 90020)

Hoods:

80cm Downdraft Hood Countertop (KEBDS 90020)

RRP $3,999

120cm Island Hood (KEIPP 12020)

RRP $2,999

90cm Chimney Hood Wall (KEWPP 90010)

RRP $1,999

60cm Built-In Extractor Hood Integrated (KEBES 60010)

RRP $699

Tags: slider