Miele launches Dialog oven in Australia
Using ground breaking technology.
Miele launched its revolutionary Dialog oven to the Australian market this week at the opening of its Experience Centre in Brisbane.
Miele co-owner, Markus Miele, told assembled VIPs and special guests including many of Australia's top retailers that the Dialog oven represents the greatest innovation leap since induction cooking.
"Cooking fish in a block of ice or a fillet of meat in a jacket of beeswax without the ice or the wax melting is possible, but only with Miele. For the first time, a technology is being deployed where electromagnetic waves respond to the texture of food in an intelligent manner, combining conventional cooking methods with electromagnetic waves at various frequencies, the Dialog oven constantly monitors the cooking process and makes adjustments as and when necessary, in this way, excellent results can be achieved in the shortest of times and up to 70 per cent faster than using conventional cooking methods – that is truly ground breaking.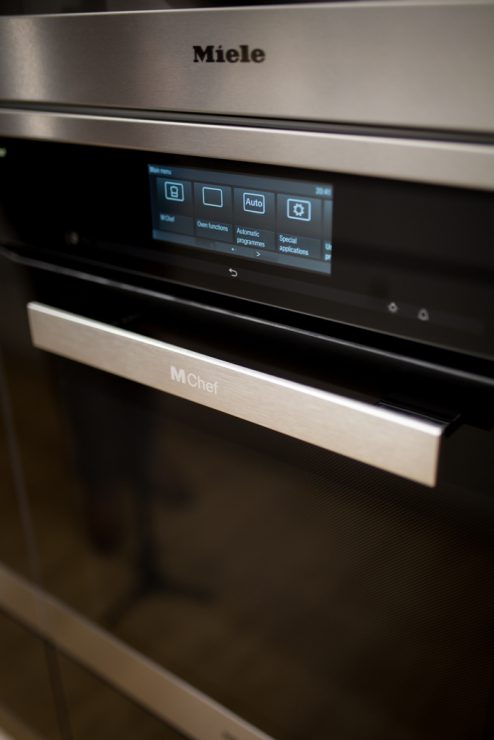 "The Dialog oven was introduced at the IFA trade fair in Berlin last year, we have just launched it to the German and Austrian markets – the response has been exceeding all our expectations. In terms of feedback there has been a lot of surprise because people don't think the oven can do what it can do and also people immediately then think – what can it do for me such as multi-component dishes," Miele said.
Markus Miele's business partner and the other co-owner of Miele, Reinhard Zinkann told Appliance Retailer in April this year that the Dialog oven as the most significant technological innovation the company has produced.
The guests attending the opening of the Miele Experience Centre were provided with a demonstration of the cooking ability of the Dialog oven by brand ambassador Shannon Bennett, including the ability to perfect cook a fillet of barramundi in a block of ice in seven minutes and a tray of soufflés in 14 minutes which are normally high susceptible to inconsistencies when cooked in a traditional oven.
Miele marketing director – Australia and New Zealand, Gabriella Franklin, said the Dialog oven is a complete game-changer for the international major cooking category.
"What you will see will change what you thought was possible to achieve in your own home. With the Dialog oven, we have changed the rules of the game and we are delivering innovation that will excite consumers and set a whole new standard in terms of excellence and ease and convenience. Like steam, it will require consumers to think differently about how they prepare food and Dialog is a similar product in that it is a game changer."