Jura starts national roll out of premium POS concept
For increased customer interaction.
Jura has rolled out four of its Premium POS concepts, three in Victoria and one in Western Australia, with plans to install another eight units across VIC, NSW, QLD and TAS by the end of the year. The new POS allows direct access to Jura Live in-store.
It is a platform for product demonstrations with custom laminate flooring, structured drawers for crockery and consumables, a movable maintenance trolley for organised wet/dry waste and custom LED lighting strips.
The Premium POS also allows for troubleshooting if the customer decides to bring their own machine back into the store with additional space obtained by pulling out the maintenance trolley, with a power point located conveniently beside it.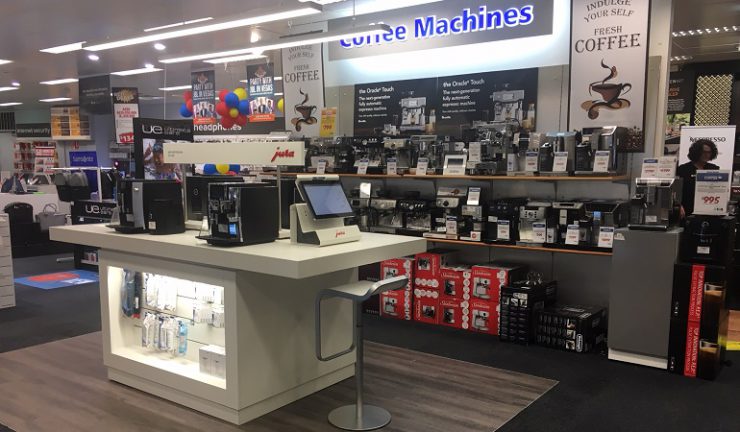 Jura Premium POS concept – Harvey Norman Joondalup, Western Australia

Jura marketing coordinator, Melinda Nuzzaco said, "With the Premium POS, we are confident that our presence at the point of purchase completely re-enforces the fundamental nature of our products, being premium automatic coffee machines engineered and designed in Switzerland.

"Now, when the customer interacts with the brand in-store perhaps for the first time, the experience is totally in line with our brand identity."

Adding to the customer experience is Jura Live; a personalised, one-on-one video learning experience for consumers to access product demonstrations and advice from a Jura expert streamed live from the studio in Melbourne.

"Jura Live gives customers and sales staff alike that extra bit of confidence to sell our premium products. Imagine being able to call in anytime during business hours and ask a Jura expert a specific question. Or perhaps watch a live demonstration of a particular model which is not out on the sales floor giving the customer the confidence they need to purchase in store," Nuzzaco added.

Tags: slider