Mitsubishi Electric provides free training sessions
Mitsubishi Electric Australia is rolling out its free, air conditioning service and installation training courses this month designed to further the level of good best practice across the industry.
Now in its 15th year, the annual series of courses offer premium training with a hands-on approach to learning in an industry where many training workshops offer information-only based sessions.
The training courses feature a balance of information and activities with product simulators, information on new systems and essential regulation updates.
Delivered on a national scale, the training is available to all industry members who are looking to continue professional development and maintain up-to-date technical skills and knowledge. The sessions are tailored to a variety of levels, from those who are attending for the first time to refresher sessions. The courses are relevant to engineers, specifiers and technicians, installers, dealers and retailers across the Mitsubishi Electric City Multi VRF, Commercial and "M" / "P" Series Residential Systems.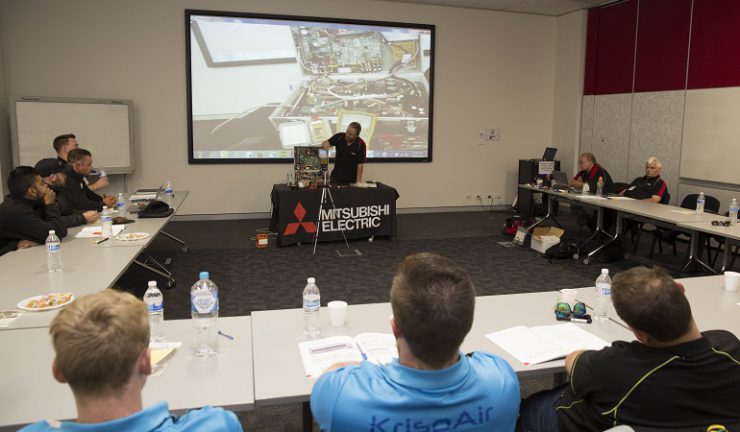 Mitsubishi Electric Australia managing director, Jeremy Needham said the company is continuously working to improve and keep ahead of industry standards in order to provide the best possible service to customers.
"Each course has been designed with a specific role in mind to ensure the training effectively focuses on best industry practices and particular techniques relevant to each aspect of the business," he said. "The training program reinforces our dedication to continued superior technical support, as well as our commitment to customer satisfaction and issue resolution."
The City Multi VRF system training spans three course options –Design, Installation and Commissioning and Service.
The three day program incorporating each of the City Multi courses is held monthly at the Sydney head office in Rydalmere and attendees can select any combination of courses.

The courses on offer for "M" / "P" Series products include Installation Training, focused on back to basics installation guidelines and industry standards and Service Training, designed for ASP's (Accredited Service Providers) who require premium support through diagnoses, guidance, information and procedure skills. Mitsubishi Electric will introduce training on chiller product later in the year.

For course dates or to register interest, contact a Mitsubishi Electric Australia sales or service representative.

Tags: slider