Introducing Portofino by Smeg.
In 2018 Smeg celebrates 70 years of technology with style with the launch of its glamorous Portofino by Smeg collection
Portofino is one of Italy's most exclusive locations on the Italian Mediterranean, secretly nestled about a tiny harbour, where the residents enjoy a gentile and opulent lifestyle. It's a destination of exquisite taste, luxury living and Italian charm.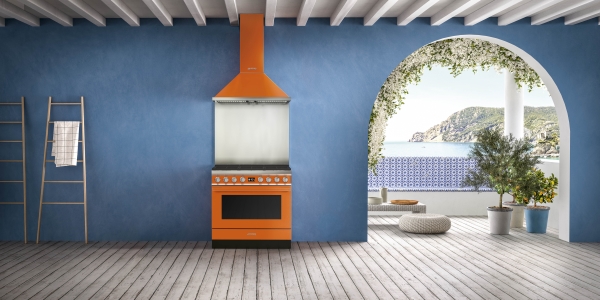 When Smeg's design studio embarked on its newest venture – to create the world's most energy-efficient large-format cooker, Portofino epitomised the pinnacle of Italian opulence and so the new collection was named. Portofino also inspired the unique colours of the collection; burnt orange, olive green, sunshine yellow and coral red, alongside the more traditional mono colours of black, white, stainless steel and the sumptuous anthracite.
In technological terms, Portofino has a robust build quality, best-in-class materials and innovative construction. Smeg's pioneering Thermoseal 90cm 126L cavity was engineered with optimum isothermic properties giving Portofino the Euoprean A+ energy rating, the most energy efficient cooker in large format available, anywhere – even though its superior elements heat the huge cavity to 200°C in just six minutes.
Further technological innovations include Portofino's leading-edge triple fan technology and dynamic airflow which ensures perfectly consistent cooking – corner-to-corner, edge-to-edge.
The cooker naturally features Smeg's unique Thermoseal technology – the science behind every Smeg oven – ensuring perfectly consistent results; juicier roasts, crisper pastry and impressively homogenous baking.
And for the first time, Portofino brings electronic programming into the freestanding format with16 cooking functions, and 20 pre-programmed menus for set and forget cooking!

Among the safety features is the soft-close, cool door which is always cool to the touch.

Available with gas or induction cooktop options, Portofino offers the ultimate versatility for stove-top cooking and being perfectly flat, is streamlined to sit flush with kitchen cabinetry.

Portofino by Smeg is the ultimate freestanding cooker for the entertainer, the professional chef, the family caterer and dinner party doyenne. And with exquisite Italian good looks, it's for every lover of technology with style.

Company Contact Details:

Smeg Australia Pty Ltd

2 – 8 Baker St Banksmeadow

NSW 2019

smeg.com.au| @smegaustralia #smegaustralia www.facebook.com/SmegAustralia

Tags: hothome, hotnews01