Deloitte: The changing face of retail
More insights from global report.
The retail sector continues to lag behind the broader growth in the Australian economy, as retail turnover, employment and wages suffer due to intense competition and pinched consumers, according to Deloitte's Global Powers of Retailing 2018 report.
The shopping journey and pre-shopping research is a fluid process with consumers bouncing between online and offline along the path to purchase, Deloitte's retail group leader, David White said.
"Physical retail stores are not going away, 90 per cent of worldwide retail sales are still done in physical stores. But to compete with the convenience and endless aisle assortment offered online, meaningful customer experiences and brand engagement is crucial. The Internet of Things, artificial intelligence, augmented and virtual reality and robots should be on every retailer's radar," White said.
"Bricks-and-mortar retailers are realising the importance of creating unique and curated merchandise offers, an exciting and entertaining atmosphere, and concierge-like service levels beyond what consumers can find online."
Examples of these can be found in the US where Lowe's home improvement chain is rolling out its 'Smart Home powered by b8ta' connected-home store-within-a-store experience (pictured). "These kinds of enabling technologies and automation, among others, are staking a claim in retail as tools that both bricks-and-mortar and online retailers alike can use to further elevate their businesses and advance customer relationships," he said.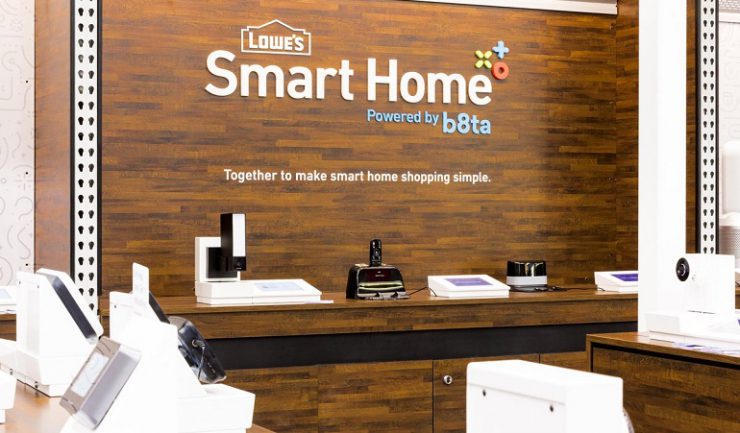 Voice-controlled electronic devices powered by artificial intelligence technology, like Amazon Echo, Echo Dot, and Google Home, are also disrupting the path to purchase. To challenge Amazon's Alexa, Wal-Mart began partnering with Google recently to bring voice-assisted shopping to its customers using Google Home.

Leading edge technology also is being deployed inside stores to enhance and personalise the shopping experience. German consumer electronics retailer Ceconomy has launched a VR application for its Saturn banner, enabling shoppers to browse for 100 selected products in two virtual environments. In-store robots are being trialled by several retailers to handle routine and often mundane tasks, improve efficiency and service levels.

Perhaps one of the most progressive uses of technology and automation is in the emergence of unmanned stores. 'Grab and go' shopping, in every sense of the word, is now reality thanks to mobile pay technology. Although execution is still in the early stages, consumers can now visit a store, self-scan items with a smartphone app, then merely tap the phone to pay and walk out the door, as in the case of Amazon Go. "Retailers like China's electronics retailer Suning in Shanghai are grabbing attention with their own unmanned store pilots as well," White said.

Global Powers of Retailing 2018 also discusses how the rules of retailing are being rewritten. Innovation, collaboration, consolidation, integration, and automation will likely be required to reinvigorate commerce, profoundly impacting the way retailers do business now, and in the future.

"It is a transformative time in retail. The shopper is clearly in the driver's seat, enabled by technology to remain constantly connected and more empowered than ever before to drive changes in shopping behavior," said White. "Across the retail industry, disruption of traditional business models has given way to unprecedented and transformative change that required online and offline to better serve more demanding shoppers and redefine the customer experience."

Tags: slider