Amazon Alexa makes its way to Australia
Alexa-enabled devices shipping from February.
Amazon Alexa is coming to Australia, along with three Alexa-enabled devices: Amazon Echo, Echo Dot, and Echo Plus. Customers are now able to pre-order the devices that will begin shipping in early February.
Echo, Echo Dot, and Echo Plus are voice-controlled speakers that are always ready, hands-free, and fast. Alexa is the brain behind Echo and can answer questions, play music, read the news, control lights, read eBooks, and much more. Alexa delivers an all-new experience for Australian customers, featuring a new voice for the Alexa Australia and New Zealand edition, local knowledge, and skills built by Australian developers.
Amazon Devices and Services senior VP, Dave Limp said, "Tens of millions of customers are already using Alexa, and today we're excited to bring her to Australia with a localised experience designed for our Australian customers. The combination of Alexa and Echo provides customers with hands-free access to music, weather, news, information, and more—just ask."
Amazon Echo
Amazon Echo is a hands-free, voice-controlled speaker that allows users to access Alexa from anywhere in the room with far-field voice control. It uses on-device software to detect the wake word, "Alexa" before its light ring turns blue and begins streaming the request to the cloud where Alexa processes the request.
Since Alexa is built in the cloud and leverages Amazon Web Services, the voice service is always getting smarter and adding more functionality. Its 2.5-inch down-firing woofer, dedicated tweeter, Dolby processing, and 360 degree omni-directional audio deliver crisp vocals and dynamic bass throughout the room.
Echo can stream music directly from Amazon Music Unlimited, Spotify, iHeartRadio, and TuneIn. Echo is also Bluetooth-enabled so users can stream music directly from a phone or tablet.
It will have an RRP of $149 AUD and be available in a variety of colours including sandstone, heather grey and charcoal.
Amazon Echo Dot
Echo Dot is a hands-free, voice controlled device that is powered by Alexa and uses the same far-field voice recognition as Echo within a sleek and compact design. Users can use the built-in speaker to talk with Alexa and listen to music, or directly connect speakers through Bluetooth or a 3.5mm stereo cable.
It will have an RRP of $79 AUD and be available in black and white.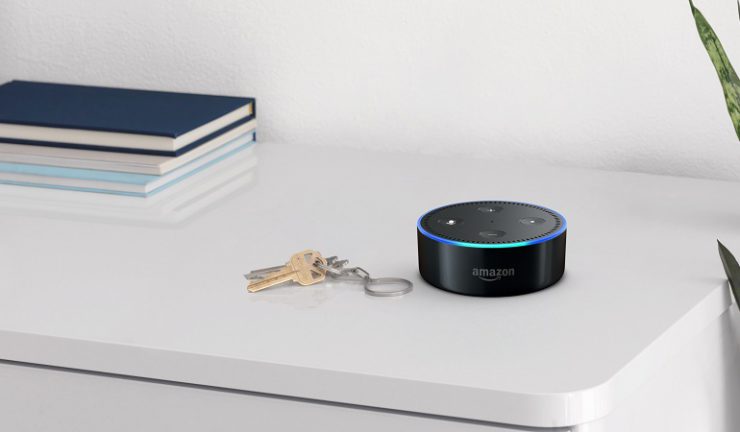 Amazon Echo Plus
Echo Plus includes all the features of Echo, including sound powered by Dolby and a far-field microphone array, and adds a built-in smart home hub. Echo Plus makes connecting to compatible smart home devices easy. Just say "Alexa, discover my devices," and Echo Plus will automatically discover and set up compatible lights, smart plugs, and switches without the need for additional hubs or apps. This simple set-up works initially with ZigBee-supported products from Philips Hue.
It will have an RRP of $229 AUD and be available in black only.
Availability

Echo, Echo Plus, and Echo Dot are available for pre-order now at www.amazon.com.au/echo, www.amazon.com.au/echodot, and www.amazon.com.au/echoplus. Amazon customers will receive a Philips Hue smart lightbulb with every purchase of an Echo Plus while stocks last.

For a limited time, there will be special introductory pricing on Echo devices on amazon.com.au—Echo Dot for just $49 AUD, Echo for just $119 AUD, and Echo Plus for just $199 AUD; or, buy a two-pack of Echo Dot or Echo to save more.

Devices will ship from Amazon beginning early February, and will also be available at JB Hi-Fi, Officeworks, Telstra, and Myer in early February.

Tags: slider