Changhong unveils new brand name
With range of TVs and refrigeration.
Local and international Changhong executives were host to a group of media and retailers to unveil its new brand, CHiQ. The CH component represents Changhong and the IQ component represents intelligence. The range of intelligent televisions, refrigerators and chest freezers is currently being rolled out to retail stores and offers a three-year warranty.
Addressing attendees at Sydney's lavish Park Hyatt hotel, CHiQ general manager for sales and marketing, David Esler said, "It is a significant time as we register our new brand name. We are exiting Changhong products and re-entering the marketing with the CHiQ brand. Our first products are being delivered to the market right now. The changeover period will be in December and January to CHiQ branded products.
L to R: David Esler (CHiQ), Darwin Huang (Sichuan Changhong) and James Wu (Changhong International).
"We value quality as the number one concern. We have a strong track record with quality with very low failure rates. In the past, we have worked with more regional and country retail stores and having a quality product is vital. We successfully launched into stores including Betta Home Living, Bi-Rite Home Appliances and Leading Appliances and we have won supplier awards with these groups.
"Unfortunately, Changhong did not cut it in the city area; hence, the brand name change. We would like to get more national retailers on board so to do that, we needed to change the name.
"Another factor aside from quality is performance. Televisions need to have good picture and easy-to-use functionality. Our other objective is best-in-class value. It is a new era and platform."
L to R: David Esler (CHiQ) and Phil Moujaes (Bing Lee)
Intelligent Televisions
The CHiQ television range features:
G3 Series of FHD/HD TV DVD combos including a 40 inch FHD model plus HD 19 inch, 24 inch and 32 inch models
G4 Series of FHD/HD TVs including 19 inch, 32 inch, 39 inch HD models and 24 inch, 43 inch, 50 inch and 55 inch FHD models
G6 Series UHD HDR Netflix TVs
G7 Series UHD HDR Netflix TVs with metallic design
G8 Series UHD HDR Netflix TVs with metallic design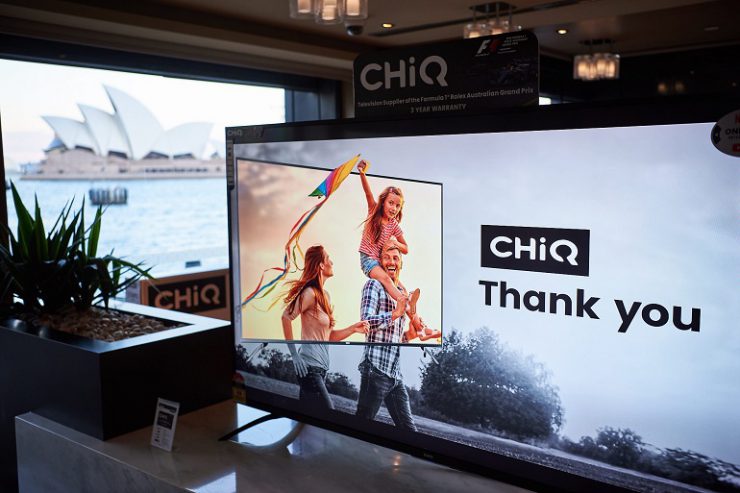 CHiQ 75-inch G8 Series TV (4K UHD LED with HDR)
The G6 Series, G7 Series and G8 Series offer 4K Ultra HD technology and an easy-to-use interface that reduces the number of steps it takes to reach YouTube and Netflix, at a value-for-money price point. The top of the range 75 inch TV has an RRP of $2,999.
L to R: David Esler (CHiQ), Peter Hammerman and Allen Garb (2nds World).
Refrigerator Range
The new refrigerator range comprises:
Bar fridges (47 litres in white and 117 litres in white, black and stainless steel) for an RRP of $249 to $269
One-door refrigerators (129 litres in white and 242 litres in white) for an RRP of $299 to $499
Bottom-mount refrigerator (251 litres in white and silver) for an RRP of $699 to $799
Top-mount refrigerators (216 litres in white and stainless steel, 263 litres in white and stainless steel, 400 litres in white and stainless steel) for an RRP of $499 to $899
Top-mount refrigerators with water dispensers (520 litres in white and silver) for an RRP of $999 to $1,099
Four-door French Door refrigerator (463 litres in silver) for an RRP of $1,399
Selected elements of the CHiQ 2018 whitegoods range: silver VFM finish chest freezers, 1-door fridges, top mount and bottom mount fridges. CHiQ's first Four-Door French Door fridge is a 463 litre frost free model with inverter compressor technology.
The flagship 463 litre silver finish Four-Door French Door refrigerator, designed for smaller households with a compact footprint, also offers six freezer drawers, independent temperature controls, frost free and advanced inverter compressor technology for powerful cooling, consistent temperatures and low-noise operation. Furthermore, the multi airflow system, and intelligent technology helps to ensure optimal temperature is maintained throughout the fridge, helping keep food fresher for longer.
L to R: Johnson Xia (ChiQ), Arvin Naidu (Stax Electrical) and Torben Knudsen (Betta Home Living).

Tags: slider