Artusi expands into sinks
Stylish yet functional.
Artusi has launched its Granitek sink series with certified Granitek technology, created, manufactured and distributed directly from Italy. Thanks to its internationally patented material, moulding technology and colouring method, these sinks are highly resistant against discolouring and withstand high temperatures and heavy impact. Furthermore, the Granitek surface is highly anti-bacterial.
Eurolinx marketing manager, Daniel Bertuccio said, "The expansion of the Artusi brand in the sink category is significant to us, as this now means that Artusi is closer to being able to offer a complete brand kitchen solution to our customers. Eurolinx is the distributor of the brand in Australia.
Artusi Sink AGS792B
"We have considered noticeable market trends to select a range that offers diversity, flexibility and functionality whilst taking into account quality and design. The range starts at entry level builder pack options and goes right up to a premium offering with the Granitek models. We acknowledge that every customer has different needs and preferences, so we have a range that is as flexible as possible to cater for a wide range of kitchen layouts and designs.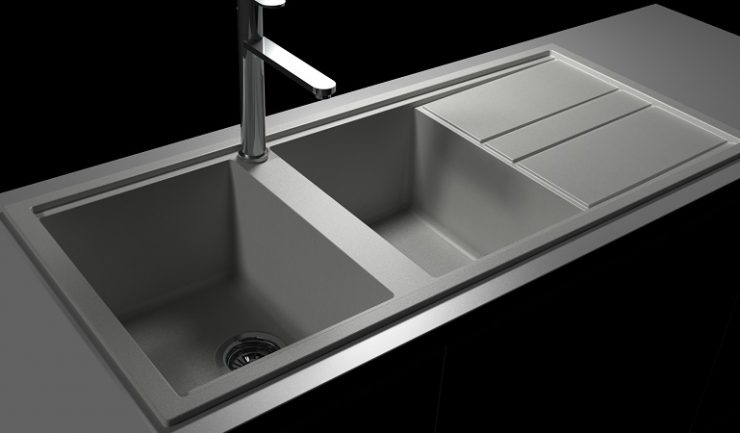 Artusi Sink AGS1162B

"Stone (Granitek style) sinks have become increasingly popular and customers should not have to compromise and break-up their kitchen design with a stainless steel 'box' affecting their streamlined kitchen design. Every aspect of the kitchen is now complementary to the overall design and appeal of the kitchen space and the sink is no exception. All kitchens need one so they should be visually appealing as well as functional."

The sinks are available in white and black and come with accompanying accessories. The AGS411 in white has an RRRP of $699, the AGS791 in black has an RRP of $799, the AGS792 in white has an RRP of $899, the AGS1001 in black has an RRP of $949 and the AGS1162 in black has an RRP of $999.

Tags: slider