Mitsubishi Electric strengthens refrigerator line-up
Unveiled at lavish Sydney event.
Mitsubishi Electric was host to a select group of retail partners, media and international visitors from Kang Yong Electric in Thailand, where many Mitsubishi Electric products are manufactured, to unveil its two new refrigerator models – the LX630 and WX500 – at a lavish event in the heart of Sydney. The refrigerators boast 4 star energy ratings, power saving mode and ECO mode, among a host of features.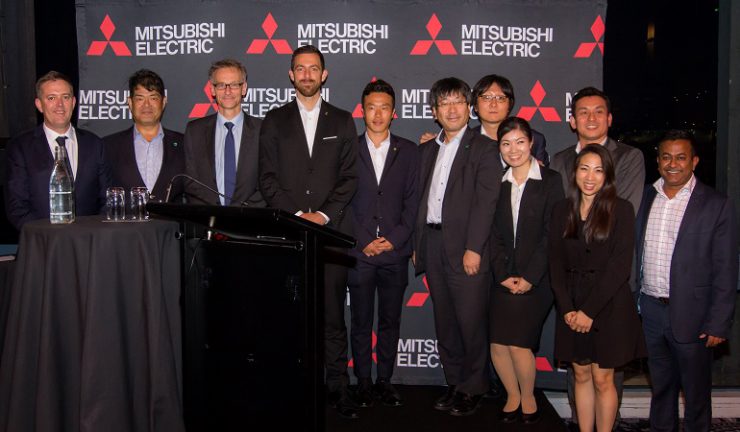 Mitsubishi Electric Australia executives with international visitors from Kang Yong Electric 
Mitsubishi Electric Australia business development executive, Jean-Marc Adele said that insights such as an influx in modern European kitchen styles and larger sized fridge models are now at the forefront of what's desired by most Australians today.
An intimate dining experience to launch the refrigerators
"We have committed our efforts to successfully deliver cutting-edge appliances designed specifically with the everyday Australian top of mind. These fridge models are the perfect example of this. Our research showed that black is proving to be the new white, so we've created the LX with new cutting edge, sleek colours."
Bi-Rite Home Appliances – Hamza Hussein, Tristan Ansley and Abdul Kayum Sacur
"We also found that our society is moving towards a fresher, more convenient way of life with an ever-expanding 'home entertaining' movement. As such, we've made our drawer capacity for fresh produce bigger. It can be these little things that influence the consumer's purchasing decision," he said.
Camberwell Electrics – Hans Vanderstadt, 2nds World – Peter Hammerman, Dorsett Retail – David Dorsett-Lynn
The MR-LX630 (RRP $3,799) will become an icon product in the Mitsubishi Electric range and will be available in Argent Silver and Brilliant Black. The Multi-Drawer WX series 500L (RRP $3,599) is ideal for smaller kitchens with a reduced height and width to easily fit into a compact fridge cavity of 660mm width. Thanks to Vacuum Insulation Panel Technology, the WX series allows for maximum food storage while maintaining a slim, sleek profile.
Mitsubishi Electric MR-LX630 Refrigerator 
Mitsubishi Electric MR-WX500 Refrigerator 

Tags: slider