Whirlpool Oceania bolsters local executive team
As well as in-store presence.
Whirlpool has appointed Jarrod Glenister to the role of national sales manager and Paul Cvitkovic as marketing coordinator for its integrated Oceania business, at a time when it is investing in-store and online featuring its Australia brand partner, Scott Gooding.
Based out of Whirlpool Oceania headquarters in Melbourne, Jarrod Glenister brings a wealth of experience in the FMCG industry, having spent more than 20 years with Kimberly-Clarke Australia across a wide variety of sales and management roles. Most recently, Glenister led the strategy and execution of Kimberly-Clark Australia's growth across key retail channels as its national channel manager.
Whirlpool Oceania national sales manager, Jarrod Glenister 
Commenting on his appointment, Glenister said, "I am really excited to be joining such an iconic company that's recognised globally for its innovation, sustainability and social responsibility practices. The Whirlpool and Ariston brands have experienced strong growth across the Oceania region over the last 12 months, and I look forward to working closely with our key trade partners to continue to deliver innovation that delights our customers."
With 11 years of experience working with a range of organisations as diverse as JB Hi-Fi, the Victoria Police Force and most recently Dometic Australia, Paul Cvitkovic will provide key marketing support across the company to implement campaigns, manage its website and social media accounts, and support broader consumer-focused marketing and communication activities.
Whirlpool Oceania marketing coordinator, Paul Cvitkovic
Whirlpool Oceania managing director, Silvia Del Vitto said, "These latest appointments underscore a period of exciting growth for the Whirlpool brand as we look to expand our local footprint, drive front-end sales, support our key retailers, and further drive our brand awareness. We are confident that appointing Jarrod and Paul to our marketing team, we will have the knowledge and passion, to successfully drive these ambitions."
"The Whirlpool team is keen to continue along its positive growth trajectory, introducing innovative category offerings across; cooking, dishwasher and refrigeration, whilst continuing with its legacy in laundry. Through investment in new partnerships, marketing strategies and most importantly, people, we intend to further solidify Whirlpool Australia's market position, complementing its growing cooking and kitchen portfolio that centres on healthy cooking, simplicity and family," she added.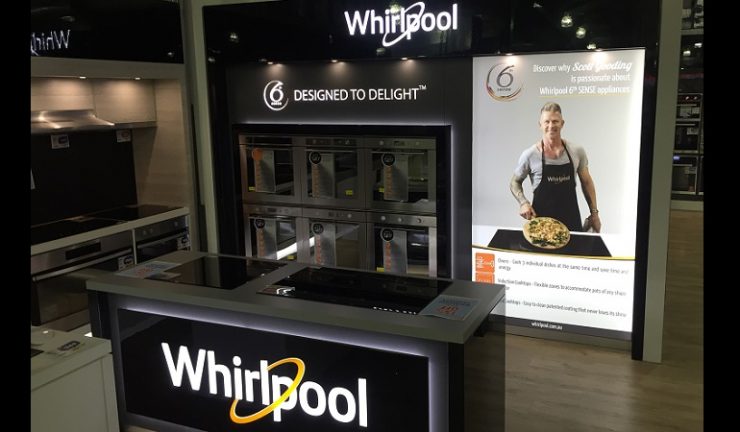 The Good Guys Whirlpool display