Hold the phone! The Ultimate Guide to Home Monitoring and Communications in 2014
The humble home phone has had to innovate to stay relevant in a market squeezed by the mass uptake of smartphones and decline of landline connections. Suppliers, however, are confident about the category's future.
Call & Answer
No longer just handsets to make and receive calls for those customers with patchy mobile reception or who simply prefer a fixed lined, cordless phones are diversifying their feature set to become compatible with smartphones, monitor babies and even find misplaced keys.
Complementing this new generation of clever cordless phones is the emerging wireless surveillance category. The ability to stream video and audio to smartphones and an easy 'plug and play' setup has broadened the base of this category. Alerts and emails round out the product features making it more affordable and easier to monitor the home environment than ever before.
Uniden supplies into both these categories, maintaining a strong foothold in the cordless phone market, while also focusing on emerging wireless categories.
"Much of the company's focus over the last couple of years has been establishing its line-up of wireless digital surveillance products," said Brad Hales Uniden national marketing communications manager.
"This has resulted in sales figures doubling annually over the past four years for this category alone. Maintaining a strong foothold in phones has also helped the transition into surveillance and home monitoring, as existing channels have helped drive this area of growth for Uniden."
Hales said an important part of Uniden's business sits in the mature home phone market and it will continue investing in the category and offer a strong line-up of products.
"The cordless phone market is still driven by many factors including the ISP providers. ISP providers are offering more and more value-added packages including home line usage and internet bundle packs, giving consumers unlimited talk time both domestically and internationally."
Hales said that sales have also been helped by integrating Bluetooth technology into several of Uniden's cordless phones, allowing users to pair their home phones with their smartphone.
Uniden's XDECT 81xx series is "its smartest home phone yet", Hales said. Bluetooth technology, combined with a new USB charging port, gives users the ability to make and receive mobile calls via the cordless handset, which can be paired with up to four smartphones at a time.
"Ideal for users who experience weak phone coverage, the XDECT 81xx series allows users to place the smartphone in the strongest coverage area, offering complete phone coverage when paired with the Bluetooth home phone.
"For others, it could mean they are able to take advantage of competitive mobile-to-mobile call rates, while still enjoying the comfort of talking on the ergonomically designed home phone."
The other trend Hales noted that is affecting the home phone market is an increase in retro styles.
"Consumers want a throwback to the retro era and a pop of colour dispersed throughout their homes. Uniden is growing this section of the market with the release of the Modro series home phone after receiving consistent feedback over recent years from customers wanting this type of product."
Uniden's limited edition Modro series is available in red, black and white in the corded Modro 15 series (RRP $49.95) and the cordless Modro 35 series (RRP $79.95).
The message from VTech, which manufactures and distributes Telstra branded phones, is that it remains "extremely positive about the strength of the cordless phone market in Australia".
On the back of two strong years of growth in the landline phone market, VTech is upbeat about its outlook. "We remain very confident this growth will continue with our product range delivering stable selling prices, strong returns and market leading point of sale," said VTech's managing director Mark Franklin.
"Our growth continues because we have a range of products that both retailers and consumers continue to embrace."
Franklin said products across the entire Telstra range — from the opening price point Telstra 12100 through to the top of the range Telstra 13950 with video doorbell — are selling very strongly.
"This is a direct result of being able to deliver cost-effective yet stylish designs that not only give the features and styles consumers are after, but returns to our retail partners that are second to none."
With ongoing reference in the mass media to tough retail conditions, Franklin has the following advice:
"In what continues to be a testing time for the retail trade, the cordless phone category remains buoyant, with demand remaining strong and average price points holding their own while other technology categories have experienced significant decline. Ensuring you align your business with the global leader delivering the best returns is smart business."
Panasonic is focused on feature-packed products in its home phone range. Nicolas Cauzac, product marketing manager for home communications, said Panasonic's cordless phones go beyond the limits of traditional home communication.
"Through connecting with mobile devices and adding handy features that make life simpler, they allow the house phone to become the central home communications device," he said.
Panasonic has two new series of cordless phones, both available in Triple and Twin packs. The premium KX-TG7892/3AZS Series (RRP from $139) features Bluetooth connectivity for pairing smartphones, a USB charging point for mobile phones and a key ring accessory for locating lost keys within the house. The mobile compatibility also extends to the Advanced Telephone Answering machine that sends messages to your mobile phone.
The KX-TGH222/3AZB series (RRP from $159) has similar features, as well as a Baby Monitoring mode that allows you to listen in on a room where another handset is located. The monitored handset (placed in a baby's room, for example) will automatically call the monitoring handset or the phone number stored when it detects sound. Further, while it's in monitoring mode the handset doing the surveilling will never ring.
"Panasonic products in this market combine advanced mobile connectivity with sleek design meeting the needs of the ultra-connected modern consumer," Cauzac said.
Plug & Play
Uniden's Guardian line-up of digital wireless surveillance products, offers a plug and play solution suitable for homes or small businesses, without the need for professional installation. But what really drives the market, Hales said, are intuitive features and ease-of-use.
The Guardian series wireless surveillance systems (G29xx and G24xx series) have advanced features such as Smart Motion Detection technology, Enhanced Night Vision and True Day Time Image to deliver crisp, clear footage. There are three different recording options: manual, motion trigger and schedule.
Hales said distance is not a barrier for the Guardian because of smartphone connectivity that allows users to monitor their property remotely via mobile device. "Convenient features like this smartphone app has helped drive the company's growth and also contributed to the expanding market," he said.
Uniden's marketing initiatives are planned to draw attention to the emerging category, with a nationwide advertising in print and digital campaigns pushing key products, with a strong focus on digital wireless surveillance.
"We have been rolling out in-store video stands showcasing how the product works, its key features and benefits. It also doubles as a useful sales tool for floor staff that may require a quick refresh on product knowledge," Hales said.
DIY CCTV is demonstrating above average growth thanks to technological advances and growing consumer concerns in relation to home protection, said Jeremy Stewart, Swann vice president marketing.
"Security technology is advancing rapidly and the ease of installation enables consumers to be protected within a matter of hours, if not minutes. Technology is evolving and now seeing your home, family, pet or car is only a matter of turning on your smartphone."
Stewart said some of Swann's most popular products in this category are the 8-channel, 4-camera recording systems, which offer live viewing over smartphone, tablet and the internet. An additional four cameras can be linked in to the system.
"Wi-Fi and IP wireless cameras remain positive due to their ease of installation and use and consumers are enjoying the move to HD 720p, smartphone viewing and smart alert features that have taken them beyond being just another wireless camera."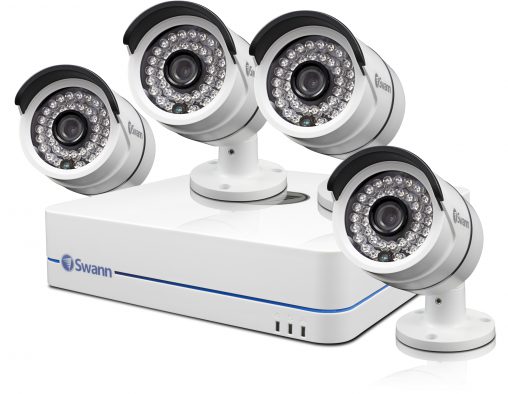 Swann 4 Channel 720p Network Video Recorder

 

Tags: cordless phones, panasonic, telstra, uniden, vtech